After losing their first two matches of Super 12 stage, can Pakistan still qualify for the semi-final?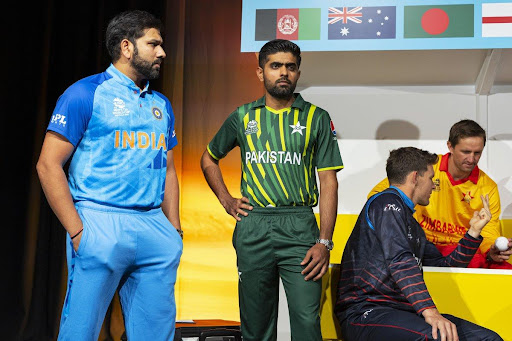 Sikandar Raza says the way our seamers started at the top as well is just unbelievable and the way we backed it up in the field and the way we kept believing, I don't think there's any words I can share right now
Zimbabwe had won the toss and elected to bat first and they chose to show there was something else entirely to their batting methodology, Zimbabwe defended 130 to deny Pakistan their first points and leave them at risk of not making the semi-finals, and they did extraordinarily.
Two consecutive defeats in the Super 12 stage from India and Zimbabwe has put Pakistan in trouble and they would need something extraordinary to qualify for the semi-finals.
It is unlikely that Pakistan ends up in the top four but not mathematically impossible. The first task for Babar Azam-led side is to win their remaining all three matches but it will be still out of their hands.
If any two of India, Zimbabwe or South Africa win two of their remaining three matches then they will finish with more than six points – the maximum that Pakistan can reach.
Net run rate can also be a factor, any win with bigger margin in the remaining games would not hurt either.
Zimbabwe upsets Pakistan
Zimbabwe had won the toss and elected to bat first. Zimbabwe chose to show there's something else entirely to their batting methodology when Ervine chose to front up first against the Pakistan pacers in Perth.
Zimbabwe dropped Chakabva (who had scores of 0, 13, 4, and 8 in the tournament before this match) down the order for Wessely Madhevere and the switch paid off.
Madhevere met Shaheen's mostly-overpitched opening over with confident drives and Zimbabwe took14 runs off those six balls.
At the other end, Ervine tucked into a wide delivery from Naseem Shah and then a straighter one before Madhevere slashed a short, wide Wasim delivery through point.
At 38 for 0 after four overs, Zimbabwe's best T20 World Cup powerplay – 57 against England – was in danger of being overridden.
The solid beginning soon disentangled as Ervine took his eyes off a Haris Rauf snorter and top-edged a pull to give Wasim a simple catch at short fine leg. Zimbabwe had to settle for their second-highest opening stand of the tournament – 42.
Two balls later, Madhevere was given out lbw on review when he was hit high on the thigh flap by Wasim and ball-tracking showed it was going on to hit the top of the stumps. They finished the Powerplay on 47 for 2.
Things got nervy as Pakistan turned the screws. Sean Williams pulled Shaheen to Iftikhar Ahmed at midwicket. He had the ball in his hands and then let it go as he tumbled to give Williams a second chance on 9.
Five balls later, Shadab received a chance from Milton Shumba off his bowling and had to take the catch low down. Zimbabwe lost 3 for 22 in 29 balls.
Zimbabwe put 130 runs on the board after the end of their innings.
Zimbabwe's seamers also decided to go fairly full upfront but their lines were tighter than Pakistan's had been and they found seam movement so it worked out a little better for them.
Ngarava was unlucky not to dismiss Mohammad Rizwan with a delivery that swung back into him and skirted past off stump but Brad Evans, playing in his first match of the tournament, enjoyed some reward.
He settled Babar up with a ball that the Pakistan skipper hoped to play leg side but sliced to Ryan Burl at the point instead. Seven balls later, Rizwan attempted to run Blessing Muzarabani down to third but inside-edged onto his stumps.
Pakistan was 28 for 2 after their Powerplay – their second-lowest in T20 World Cups and their lowest against Zimbabwe.
Zimbabwe's spinners Sikandar Raza, Williams, and Burl began the just barely get by imposing a boundary drought on Pakistan but they were unable to keep them from running ones, twos, and even threes.
In the 21 deliveries between overs 8.4 and 11.6, Pakistan scored 15 singles, three twos, and a three, and Zimbabwe delivered only two dot balls.
With Williams' wide, they conceded 25 runs. It may not seem like much in the context of the game, but on a big field, plugging the gaps was crucial and Zimbabwe was not always able to do so.
Raza had Shan Masood stumped off a quicker delivery, a leg-side wide, as he attempted to flick. Pakistan was 94 for 5 and Raza had set Zimbabwe in a situation to push for success. It took a lot of hard work to get eventually there, and that just made it all the sweeter.
Zimbabwe defended 130 to deny Pakistan their first points and leave them at risk of not making the semi-finals, and they did extraordinarily.
And now Pakistan is hanging by a thread. Even if they win all of their remaining games, they will need some help from other teams to make the semi-finals (which now includes rooting for India to beat South Africa).
Zimbabwe 130 for 8 (Williams 31, Wasim 4-24, Shadab 3-23) beat Pakistan 129 for 8 (Masood 44, Raza 3-25, Evans 2-25) by one run.