Aaron Finch announced his retirement from the ODI format on Saturday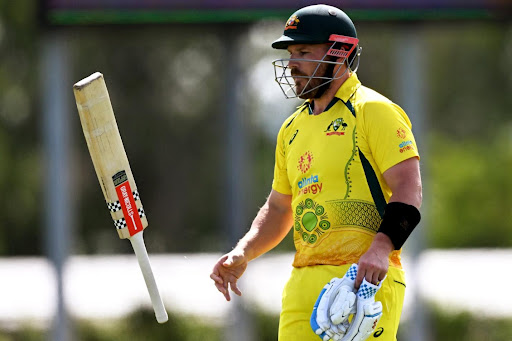 Aaron Finch says it is time now to give a new leader the best possible opportunity to prepare for and win the next World Cup
Aaron Finch is set to retire from one-day internationals following Australia's ongoing series against New Zealand, announced Cricket Australia on Saturday. He will continue to lead the side into the upcoming T20 World Cup in Australia.
"It has been a fantastic ride with some incredible memories,"

Finch said.
"I have been extremely fortunate to be a part of some brilliant one-day sides. Equally, I have been blessed by all those I have played with and the many people behind the scenes.
"It is time now to give a new leader the best possible opportunity to prepare for and win the next World Cup. I thank all of those who have helped and supported my journey to this point."
The 2015 World Cup winner, a Finch, made his ODI debut in 2013 and scored 5041 runs including 17 centuries and 30 fifties at an average of 39.13. The Australian opener, however, has endured a run of low scores in the recent past.
"I could have tried to play the series against England, and that would have been a bit of a fairytale finishing at the MCG, but I think that's never been my style to be self-indulgent in any way,"

he said.
"So it's important that whoever takes over the captaincy, and whoever opens the batting, is given the best opportunity to take the team forward and win the World Cup in 2023. I'm very comfortable and confident I would never have made it that far, just with my body as well as a bit of form."
"I think my T20 form has been pretty good for a little while now; [it's a] different format, but I'm comfortable that I'm still playing well, just haven't got as many runs in this format,"

he said.
"Don't know what the difference is, maybe a bit of intent, a bit of risk-taking that you get away with in T20 cricket."
Cricket Australia CEO Nick Hockley added:
"On behalf of Australian Cricket, I would like to congratulate Aaron on his vast contribution as the captain of the Australian Men's ODI team and as a wonderful exponent of the 50-over format.
"Aaron is an enormously gifted and determined player whose outstanding deeds with the bat have been matched by his strong and inspiring leadership. His decision to step aside from the ODI captaincy now is typical of his selfless approach to the game.
"I'm delighted Aaron will lead the Australian team into the forthcoming ICC Men's T20 World Cup where his leadership, experience, and tactical nous will be integral to the defense of our T20 World Cup title on home soil."