5 Must-Watch matches in remaining league stage fixtures of IPL 2022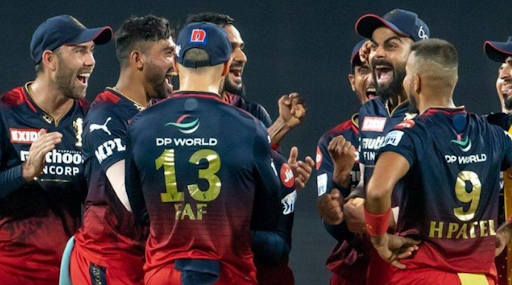 Royal Challengers Bangalore are one of the teams fighting for a top-four spot
We are 58 matches into the 2022 edition of the Indian Premier League, and so far, the season has produced many spectacles to behold. We have seen giants in Chennai Super Kings and Mumbai Indians becoming punching bags and new teams in Lucknow Super Giants and Gujarat Titans proving that they have not joined the competition to take part, but rather, to take over.
We have seen new heroes emerging, and the old icons in the likes of Virat Kohli and Rohit Sharma fade into oblivion. After a month and a half of non-stop premium quality cricket, we have now arrived at the most crucial stage of the season.
The last 12 league fixtures will decide which four teams will compete in the players and which six sides will need to go back to the drawing board for IPL 2023. So far, Gujarat Titans are the only side to have officially confirmed their playoffs seat, whilst Mumbai Indians are out of the race.
Though mathematical permutations will not testify to this statement, Chennai Super Kings and Kolkata Knight Riders are also effectively out of the battle for the playoff spots Stakes will be higher than ever before in almost all of these 12 matches, but some matches will be more significant than others.
Check out the five matches to look forward to from the league stage:
1. Royal Challengers Bangalore vs Punjab Kings – 13th May
The next big encounter IPL fans will be looking forward to is the clash between Royal Challengers Bangalore and Punjab Kings, which will take place at the Brabourne Stadium on Friday, 13th May. The Challengers are placed in the fourth position in the standings, with 14 points from 12 matches.
On the other hand, Punjab Kings are languishing in eighth place with 10 points from 11 matches, but they are not out of the equation just yet. Keeping 16 points as the cut-off, Bangalore will have a chance of getting a foot and a half in the playoffs if they win this match, while for Punjab, it will be all about survival as a defeat in this fixture will effectively mean the end of the road for them.
2. Lucknow Super Giants vs Rajasthan Royals – 15th May
Two days after the clash between Bangalore and Punjab, Lucknow Super Giants will lock horns with Rajasthan Royals at the same venue – Brabourne Stadium. Unlike our previous mention, no team will have their survival on the line. With 16 points to their name, Lucknow has almost qualified for the playoffs, awaiting official confirmation, while Rajasthan has accumulated 14 points from 12 matches.
Both sides will have a common ambition – to win, but their perspectives will be different. Sanju Samson's Royals will be looking to reach the magic figure of 16 and heave a collective sigh of relief, whilst KL Rahul's Super Giants are looking to finish in the top two, in order to have two cracks at the final.
3. Punjab Kings vs Delhi Capitals – 16th May
In the very next game following the Lucknow-Rajasthan clash, Punjab Kings and Delhi Capitals will cross paths at the Dr DY Patil Sports Academy on 16th May. For this match, we will need to consider two scenarios.
The first scenario is simple – if the Kings lose their next match against Bangalore, they will effectively be eliminated in any case. However, if they do win, this game will prove to be a virtual knockout since the loser will see their hopes get crushed.
4. Royal Challengers Bangalore vs Gujarat Titans – 19th May
While eliminated and nearly eliminated teams in the likes of Kolkata Knight Riders, Chennai Super Kings and Mumbai Indians will play a few insignificant fixtures here and there, stakes will be sky high once again when Royal Challengers Bangalore will be up against Gujarat Titans at the Wankhede Stadium on Thursday.
Gujarat has won 9 matches already and their place in the top four is sealed, meaning that they are now fighting for a top-two spot. Meanwhile, we need to consider two scenarios for RCB here – if they come into this fixture after losing against Punjab Kings, this will be a must-win fixture for them. However, if they do beat Punjab, they could be in contention for a Qualifier 1 place.
5. Rajasthan Royals vs Chennai Super Kings – 20th May
A day after the Bangalore-Gujarat clash, Rajasthan Royals and Chennai Super Kings will cross swords at Mumbai's Brabourne Stadium. Though not yet eliminated officially, Chennai Super Kings need the biggest miracle this sport has ever seen to qualify.
Hence, let us focus on the other half of the coin, the Rajasthan Royals. If Rajasthan beat Lucknow Super Giants in their next fixture, they will be fighting for a place in the Qualifier 1 in this game, but in case they don't, this will be a make-or-break affair.