Vettori beat Hermansson and won bonus for the best fight at UFC Vegas 16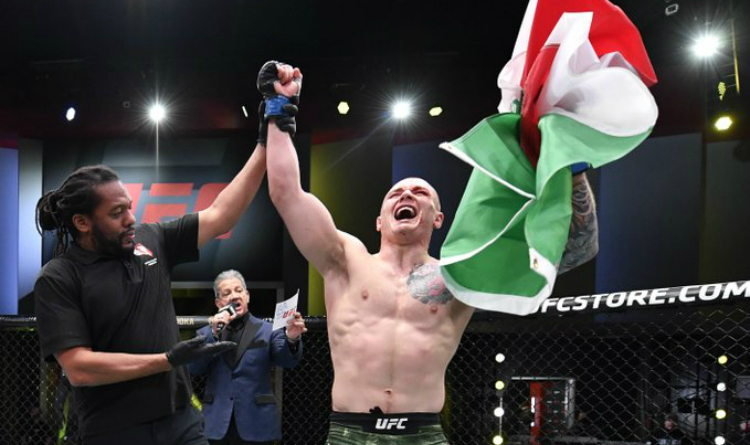 mymmanews.com
Marvin Vettori beat Jack Hermansson in the UFC Vegas 16 main event on December 5 and won a $50,000 bonus for the best fight.
Vettori challenged Paolo Costa and Israel Adesanya
In the first round of the showdown, Vettori dropped Hermansson to the ground with a straight left, controlled him on the mat and landed 44% more significant shots. Jack performed 2 takedowns and hit the target 25% more frequently in the second heat, but he failed to keep the fight on the canvas. The third round was clearly Joker's: he threw several combinations and delivered 26% more blows. However, Marvin took championship rounds. He outperformed Hermansson in terms of accuracy, and a number of powerful punches landed. As a result, judges scored the contest in favour of Vettori (49-46, 49-46, 49-45).
The UFC recognized Vettori vs Hermansson as a fight of the night. Both athletes pocketed an extra $50,000 paycheck. Marvin will become the first Italian to get in the UFC top 5 after the ranking is updated because Jack currently takes fourth place.
During a post-clash interview, Marvin called out Paolo Costa, who was ranked second at middleweight. Borrachinha had been riding on a 13-fight winning streak before losing to Israel Adesanya in a title bout in September. Vettori is looking forward to dethroning the reigning champion after defeating Costa. The Italian met Adesanya inside the octagon in 2018. The contest was close, but Israel won by split decision. Vettori claims that he has found a key to beat Israel in a rematch. Therefore, Marvin is confident in his victory. However, Adesanya plans to take on light heavyweight champion Jan Blachowicz next.