Usyk vs Chisora – fight analysis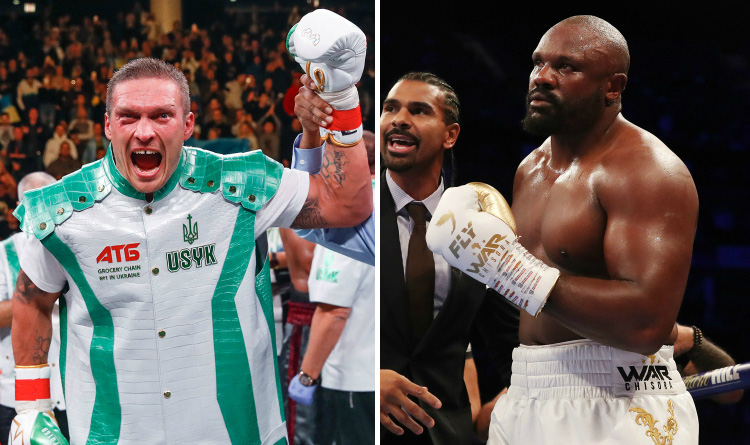 essentiallysports.com
Oleksandr Usyk will face Derek Chisora for the WBO Inter-Continental heavyweight title on October 31 at the Wembley Arena in London. Who has a better chance to win and how will the contest play out?
Oleksandr Usyk stats
Usyk is an undefeated boxer with a 17-fight winning streak. He started his professional career in 2013 and won the WBO Inter-Continental cruiserweight title a year later. The Cat defended the belt 4 times in the period of 2014-2015. In 2016, Oleksandr defeated Krzysztof Glowacki in a bout for the WBO title. Until 2018, Usyk won the WBC, WBA, IBF and The Ring belts becoming the first cruiserweight to hold all 4 major championships. The Ring ranks Oleksandr fifth in the P4P rating of active boxers.
Derek Chisora stats
Chisora amassed a record of 41-9. He made his debut as a professional in 2007. Del Boy had a 12-fight win streak before earning the British heavyweight title in 2010. In the next bout against Sam Sexton, Derek retained the belt and won the Commonwealth title. However, he lost belts in a bout against Tyson Fury in 2011. In two years, Chisora got the WBO and WBA titles but was again defeated by Fury and could not retain the belts. Last year, Derek knocked out David Price and was crowned as the WBO Inter-Continental champion. He takes ninth place in the BoxRec rankings of active heavyweights.
Matchup stats
According to the boxers' performance in their last fights, Usyk landed 17% less punches per minute but Chisora absorbed twice as many shots. Furthermore, Oleksandr is a more powerful athlete with a higher finish rate and a stronger chin.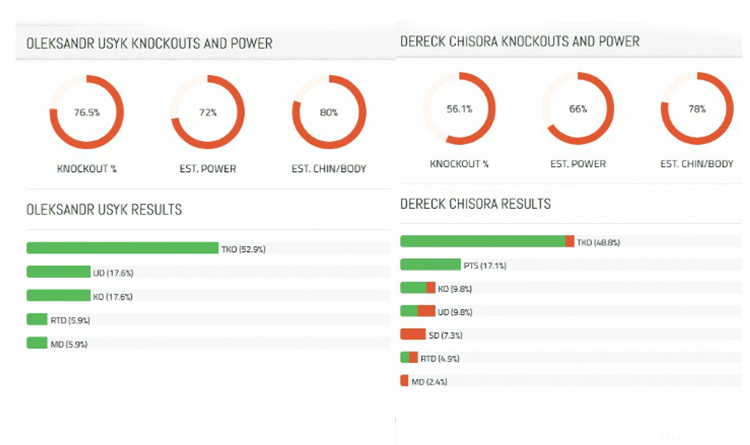 Source: Boxstats
Usyk vs Chisora preview
Oleksandr has a 4-inch reach advantage and outperforms his opponent on key stats. The Ukrainian has more punching and knockout power, his defense is flawless due to high speed and great technique. Therefore, there are no doubts that Usyk will be victorious. The question is when and how he will likely win.
The Cat tends to start fights slowly and gradually increases a number of thrown strikes reaching a peak in the middle of a bout. Moreover, he beat the last 2 opponents in the seventh and eighth rounds, while his average winning heat is 7.8. Thus, Usyk is expected to finish the clash by the ninth round. Oleksandr knockout rate is 76.5%. Derek has already been stopped 3 times and usually takes many blows. Thus, Chisora will most probably lose by KO/TKO.