Stephen Thompson and Rob Font scored bonuses at UFC Vegas 17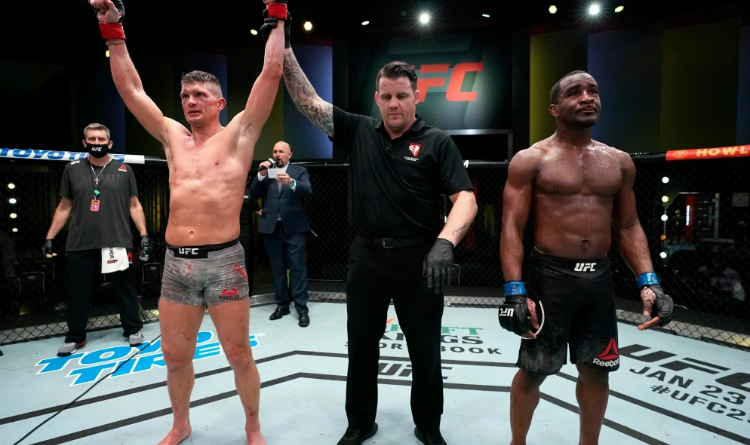 Thompson beat Neal by unanimous decision
The UFC handed out bonuses for the best performance to 4 fighters, who gained victories at UFC Vegas 17 on December 19.
Marcin Tybura and Jimmy Flick pocketed $50,000 for finishes
Stephen Thompson faced Geoff Neal in the main event. Wonderboy dominated Neal throughout the whole clash and outstruck him in every single round. According to the fight's results, Thompson landed almost twice as many significant shots: 171 versus Geoff's 85. All judges scored the contest 50-45 in favor of Stephen, and he received a "Performance of the Night" award. In a post-bout interview, Wonderboy said that he was looking forward to getting a title shot in 2021.
Bantamweight Rob Font took on Marlon Moraes. At the beginning of the first round, Moraes performed a takedown, but Font reversed the position and got back to his feet. Marlon took him down to the mat for the second time; however, he failed to control his rival on the ground. Rob managed to stand up, landed a big combination of punches and won by TKO at 3:47. Font got a $50,000 paycheck for a fast finish. He will likely take Marlon's third place at bantamweight after the rankings are updated.
Polish heavyweight Marcin Tybura defeated Greg Hardy by TKO and collected an award for the best performance as well. He gained the fourth victory in a row and tied a record for the longest active win streak in the division with Blaydes, Gane and Ngannou. American flyweight Jimmy Flick caught his opponent Cody Durden in a flying triangle and made him tap in the first heat. Flick scored the third victory by flying triangle submission in UFC history and received a $50,000 bonus.