Spence vs Garcia: will Errol retain the WBC and IBF belts?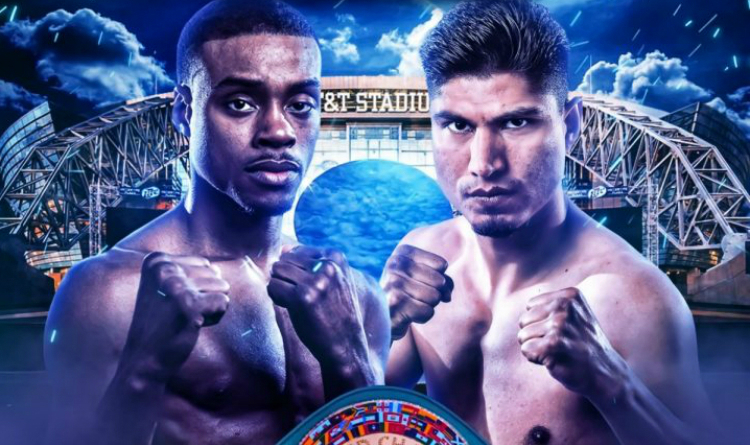 boxingnews24.com
Errol Spence Jr. is set to defend the WBC and IBF welterweight titles in a bout against Danny Garcia on December 5 in Arlington, USA. Will The Truth retain his titles?
Errol Spence Jr. stats
Spence began his professional career in 2012 and compiled an exceptional record of 26-0. Errol got the first title shot in 2017. He knocked out Kell Brook in a contest and won the IBF belt. Until 2020, he defended the title 4 times and beat such strong challengers as Lamont Peterson and Mikey Garcia. In his last clash, The Truth defeated Shawn Porter by split decision and added the WBC title. BoxRec ranks Errol third in the P4P rating of active boxers. As an amateur, Spence got 4 gold medals in the US Championships and won the Golden Gloves competition in 2009.
Danny Garcia stats
Garcia started competing as a pro in 2007. His record currently stands at 36-2. In 2009, Swift beat Enrique Colin in a showdown for the WBC Youth Intercontinental light welterweight title and won the WBC Youth interim welterweight belt next year. In 2012-2014, Danny earned the WBC, WBA and The Ring titles and defended them 5 times. He suffered the first career loss in a bout for the WBA (Super) welterweight belt against Keith Thurman in 2017. Nevertheless, Garcia got a second title shot against Shawn Porter but lost by decision. Last year, Danny knocked out Adrian Granados and won the WBC Silver belt. Garcia takes 40th place in the BoxRec P4P ranking of active fighters.
Matchup stats
Spence has more punching power and a better ability to take blows. Moreover, Errol took on rivals with a higher strike resistance and knockout power.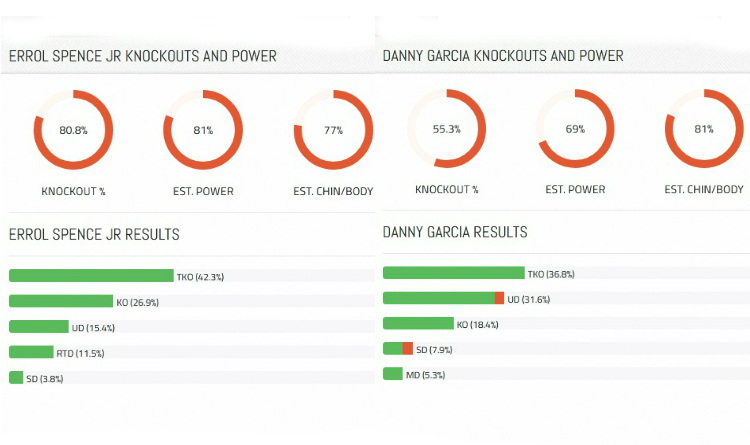 Both fighters faced Shawn Porter; thus, we can compare their performance taking into account the results of those bouts. Spence landed 24% more shots (17.8 per round versus Garcia's 14.3). However, Danny missed less frequently: 42% of his punches hit the target, while Errol landed 35% of blows. Furthermore, Garcia had a better defence, as he absorbed 19% fewer strikes per round (4.8 versus Spence's 5.9).
Spence vs Garcia preview
Errol outperforms his opponent on key stats: a number of punches landed, strikes resistance and power. Spence masterfully throws jabs to control the distance and crack rivals' defence. He inflicts the most damage with devastating rear hooks. Garcia lands almost twice as fewer jabs and focuses on lead hooks. Therefore, his shots lack power but score him points. Based on these factors, Spence has a much better chance to win the contest.
The Truth has a whopping 81% knockout rate. His winning round is 4.6. But Swift has never been stopped and is famous for a strong chin. Besides, Errol failed to finish 2 of his last opponents. Considering Spence's relatively low accuracy and Garcia's excellent defence, the fight will likely reach the time limit. In this case, Errol is poised to beat Danny by decision.
The most probable fight results
Errol Spence Jr. to win by decision (18/25);
Total rounds over 10.5 (3/10).
Disclaimer: Fight analysis is not a betting tip or a gambling advice of any sort. Our experts determine the most likely outcome of a sporting event based on statistics and personal views. Therefore, the actual result of a competition may differ from the predicted.