Saint Preux vs Hill: will UFC veteran ruin Sweet Dreams?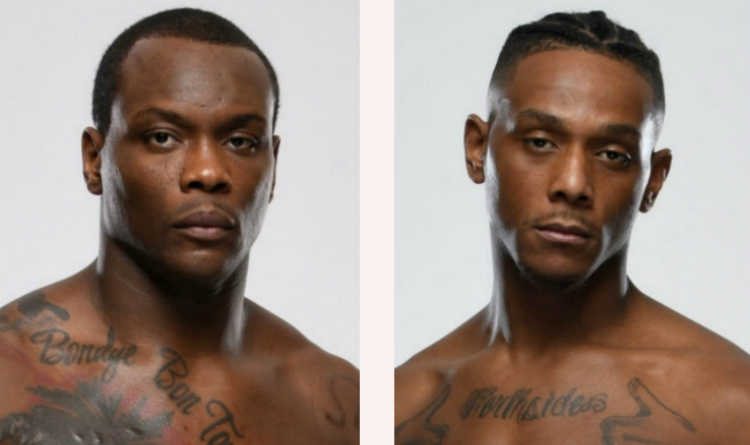 twitter.com
Light heavyweight Ovince Saint Preux will face Jamahal Hill in the UFC Vegas 16 co-main event on December 5. Does UFC veteran have a chance to ruin Sweet Dreams?
Ovince Saint Preux stats
Saint Preux started competing in MMA as a pro in 2008 and compiled a record of 25-14. OSP transitioned to the UFC from Strikeforce in 2013. His career in the promotion had its highs and lows. Ovince won 13 of 22 bouts and had a 3-fight losing streak once. In 2016, Saint Preux took on Jon Jones in a contest for the interim UFC belt but dropped a unanimous decision. He has never got a second title shot ever since. However, OSP set a record for most finishes in the UFC 205-pound division – 11. In 2020, Ovince debuted at heavyweight in a showdown against Ben Rothwell. The contest resulted in Saint Preux's loss by split decision, and he returned to light heavyweight.
Jamahal Hill stats
Hill began his MMA career in 2017. His current record stands at 7-0, 1 no contest. Sweet Dreams had been riding on a 4-fight winning streak before gaining victory in the KOP light heavyweight championship in 2018. Jamahal knocked out Alexander Poppeck at Dana White's Contender Series and signed a contract with the UFC in 2019. Hill beat Darko Stosic via unanimous decision in his UFC debut in January 2020. Then, he defeated Klidson Abreu by KO in May, but the result of the contest was overturned after Jamahal had tested positive for marijuana.
Matchup stats
Hill lands almost thrice as many shots per minute. However, Saint Preux absorbs 10% fewer significant strikes (3.97 versus Jamahal's 4.39). In contrast to his opponent, Ovince made takedown and submission attempts in UFC clashes.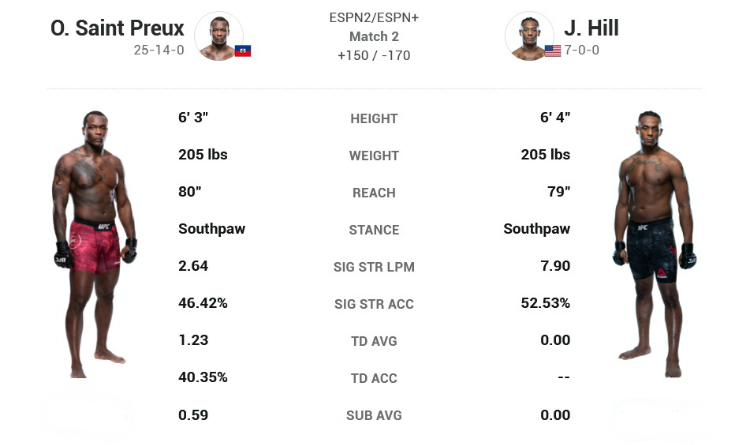 Saint Preux vs Hill preview
The athletes have similar fighting styles on the feet. They focus on punches and middle-kicks. However, Jamahal throws low-kicks less frequently, lands more knees, and hits the target much more often. OSP is a less accurate fighter and has a worse defence – he takes 56% of shots, while Hill absorbs only 52%.
OSP earned a brown belt in BJJ. Sweet Dreams has no ranks in grappling. Therefore, Ovince will have a great advantage on the mat. Saint Preux has a low takedown accuracy, as he finishes only 40.35% of attempts. Nevertheless, Jamahal's defence is relatively weak – he denies 53% of takedowns. Thus, OSP will be able to bring the fight to the canvas if he wants to.
Saint Preux has a strong lead in grappling and punching power (scored 48% of victories by KO/TKO versus Hill's 43%). Jamahal keeps his chin up and eats too many shots. OSP will definitely use his rival's vulnerability, as he is an experienced counter fighter. Given these factors, Saint Preux has a better chance to be victorious.
As a rule, Ovince opens up slowly. He fights calmly and measuredly. Due to Hill's lack of wrestling skills, OSP might bet on the ground game to take his rival into deep water and neutralize his advantage in striking. Jamahal has not been defeated yet because he has an excellent ability to take shots and defend submission attempts. Under the circumstances, the bout will likely reach the time limit. In this case, Saint Preux is poised to defeat Jamahal by decision.
The most probable fight results
Ovince Saint Preux to win by decision (11/2);
Total rounds over 2.5 (13/10).
Disclaimer: Fight analysis is not a betting tip or a gambling advice of any sort. Our experts determine the most likely outcome of a sporting event based on statistics and personal views. Therefore, the actual result of a competition may differ from the predicted.