Plant vs Truax: who wins the battle of the Calebs?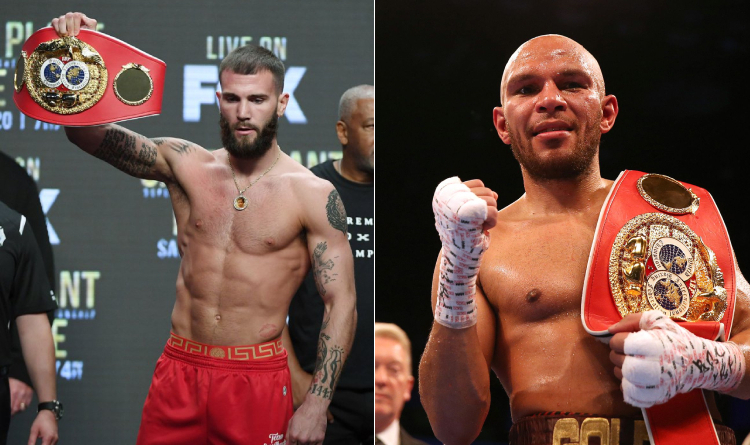 Plant to defend the IBF belt against Truax
Caleb Truax is set to face IBF super middleweight champion Caleb Plant on January 30 in California. Will Sweethands defend his belt?
Caleb Plant stats
Plant began competing in boxing as a pro in 2014 and amassed a flawless record of 20-0. Sweethands won the IBF gold in 2019 in a contest against Jose Uzcategui. Afterwards, he beat 2 title challengers Mike Lee and Vincent Feigenbutz. Plant won 97 of 117 clashes as an amateur and became a Golden Gloves champion at light heavyweight in 2011. BoxRec currently ranks him sixth at super middleweight.
Caleb Truax stats
Truax started his professional boxing career in 2007. His record stands at 31-4-2, 1 no contest. In 2009-2011, Golden won the WBF International belt and became the USA Minnesota State champion at middleweight and super middleweight. Caleb faced Daniel Jacobs for the WBA belt in 2015 but lost by TKO. He beat IBF king James DeGale 2 years later; however, Golden failed to defend the title in a rematch. Truax won 2 of 3 previous bouts, 1 of the showdowns was stopped due to a cut from a head clash. He takes 39th place in the rating of the best active super middleweights by BoxRec.
Plant vs Truax stats
Truax has 11% more power and a 2% better ability to take shots.
According to the results of the boxers' last contests, Plant lands almost twice as many punches per round (29 versus Truax's 9). Besides, Sweethands outnumbers Golden's significant strikes 3 to 1 (22 versus 7 per round). Nevertheless, both athletes absorb the same number of blows – 8 per round.
Plant vs Truax preview
Plant is much more accurate: he delivers 33% of shots, while only 22% of Truax's punches hit the target. The champion has a better footwork and noticeably faster hands. Furthermore, Golden is 9 years older, his reflexes are slower, and he lacks power. Given these factors, Truax has an extremely low chance to win the contest.
Plant's finish rate is 60%, while Truax has suffered 50% of losses before the time limit, and he is famous for a strong chin. Nevertheless, considering Sweethands' advantage on all key stats, he will likely beat his rival by KO/TKO. Plant's average winning round is fifth; therefore, he is expected to stop Truax within seven heats.
The most probable fight results
Caleb Plant to win by KO/TKO/DQ (11/25);
Total rounds under 7.5 (7/10).
Disclaimer: Fight analysis is not a betting tip or a gambling advice of any sort. Our experts determine the most likely outcome of a sporting event based on statistics and personal views. Therefore, the actual result of a competition may differ from the predicted.