Okolie vs Glowacki: will Krzysztof get the WBO belt back?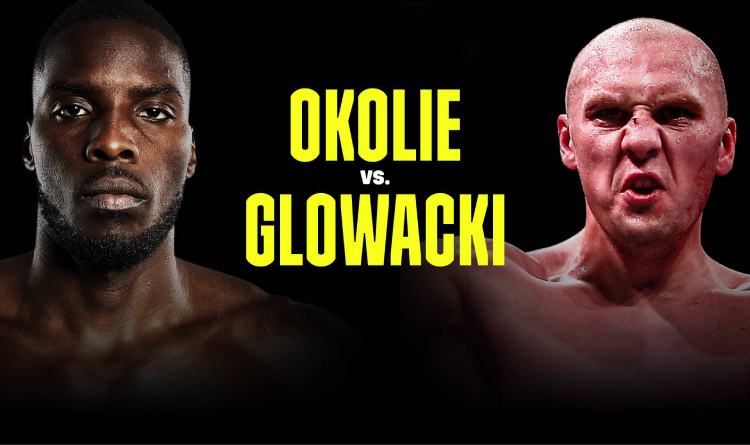 Okolie to face Glowacki
Lawrence Okolie and Krzysztof Glowacki are set to fight for the vacant WBO cruiserweight title on March 20. Will Krzysztof defeat Lawrence and get the belt back?
Lawrence Okolie stats
Okolie is an undefeated boxer with a record of 15-0. He turned pro in 2017 and won his first gold – WBA Continental – next year. The Sauce retained the belt 3 times and added the Commonwealth, British and European titles in 2018-2019. Last year, Lawrence beat Nikodem Jezewski in a clash for the WBO International belt and became a WBO title challenger. BoxRec ranks Okolie seventh at cruiserweight.
Krzysztof Glowacki stats
Glowacki started his professional boxing career in 2008 and amassed an impressive record of 31-2. Główka became a BBU International champion in 2009 and won the Poland International belt 2 years later. In 2012, he knocked Felipe Romero out in a contest for the WBO Inter-Continental gold. Krzysztof won the WBO crown in 2016 but lost it to Oleksandr Usyk. In 2018, Glowacki captured the WBO belt for the second time; however, he failed to defend it in a clash against Mairis Briedis. Krzysztof did not fight last year and was removed from rankings of active boxers.
Okolie vs Glowacki stats
Lawrence is 13% more powerful; however, Krzysztof has an 8% better ability to take shots. Besides, Główka faced tougher and stronger rivals.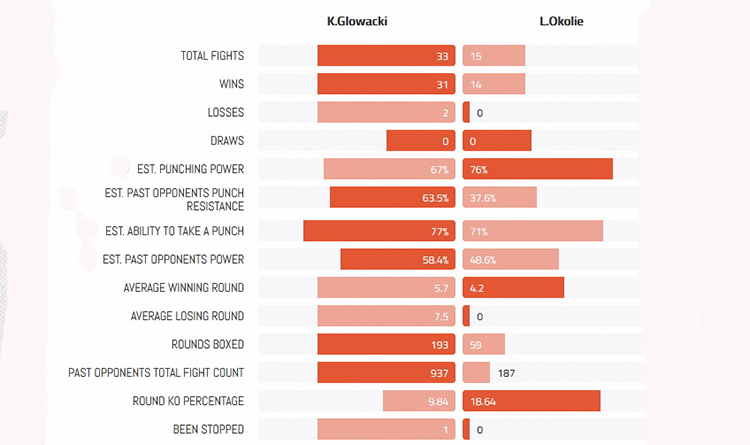 According to the results of the sportsmen's previous bouts, Okolie lands 133% more punches (7 versus Glowacki's 3 per round) and absorbs 17% fewer blows (5 versus 6). Both athletes have the same accuracy rate – 15%.
Okolie vs Glowacki preview
Lawrence is a superb outside boxer. He uses his extremely long hands to keep his opponents at the end of his shots. The Sauce throws jabs both to crack his rivals' defence and to stop their attacks. Once Okolie sees an opening, he lands a devastating straight right.
Krzysztof sticks to fundamentals and prefers boxing at the medium range. He sets things up with jabs, focuses on controlling the ring and takes a slow-pace approach. In his previous contest against Briedis, Główka showed weak offensive and defensive skills: he delivered only 8 punches and ate 19 power shots in 3 rounds.
Given Lawrence's 7.5-inch reach advantage, Glowacki will definitely have troubles with closing the distance. If Krzysztof gets to the medium range, Okolie will clinch to nullify his rival's onslaughts. In this case, Główka will take a hard beating at the far distance and lose the bout.
Okolie has a high knockout rate – 80%. Consequently, he is expected to win by KO. Lawrence's average winning round is fourth; however, Glowacki has been stopped only once. Nevertheless, Okolie finished all of his rivals within 7 heats. Thus, the fight will most probably end before the 10th round.
The most probable fight results
Lawrence Okolie to win by KO (83/100);
Total rounds under 9.5 (4/5).
Disclaimer: Fight analysis is not a betting tip or a gambling advice of any sort. Our experts determine the most likely outcome of a sporting event based on statistics and personal views. Therefore, the actual result of a competition may differ from the predicted.