Kirkland vs Montiel: does Juanito have a chance against Mandingo Warrior?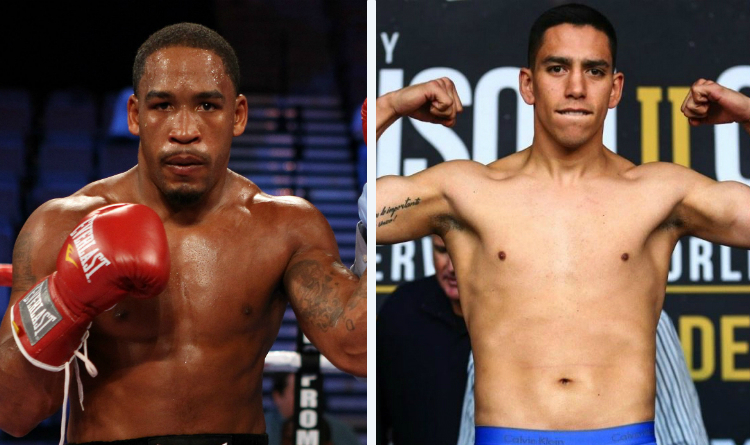 Kirkland to fight Montiel
Light middleweight James Kirkland is set to take on Juan Macias Montiel in the PBC on FOX co-main event on December 26 in Los Angeles. Does Juanito have a chance against Mandingo Warrior?
James Kirkland stats
Kirkland made his professional debut in 2001. His current record stands at 34-2. Mandingo Warrior had been riding on a whopping 21-fight winning streak before facing Eromosele Albert in a bout for the WBO–NABO title in 2008. He knocked Albert out in the first round and won the belt. In 2011, James beat Alfredo Angulo by TKO and earned the WBC Continental Americas gold. He defended the title in a contest against Carlos Molina. Kirkland laid off for 4 years after suffering a defeat against Canelo Alvarez in 2015. However, James came back to the ring last year and knocked out Colby Courter and Jas Phipps.
Juan Macias Montiel stats
Montiel started competing as a pro in 2009 and compiled a record of 21-4-2. Juanito got the first and only title shot in 2015. He took on Alejandro Barrera in a showdown for the WBA Fedecentro belt but dropped a split decision. In 2016-2017, he had a 2-fight losing streak and was close to quitting boxing. Nevertheless, Montiel rebooted his career and got back on winning track. He defeated Gustavo Octavio Castro and Marco Reyes by TKO. His previous bout against Hugo Centeno Jr. resulted in a draw. BoxRec ranks Juan fourth on the list of the best active Mexican middleweights.
Matchup stats
Kirkland has 29% more punching power. Besides, James' ability to take shots is 22% higher.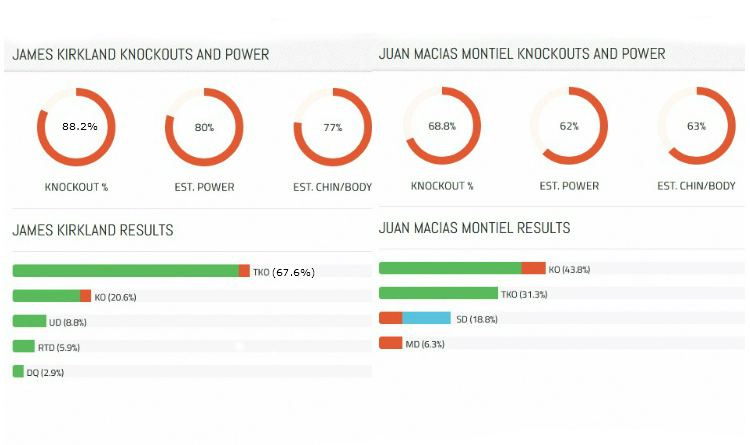 Based on the results of the boxers' previous clashes, Montiel outperformed his opponent on all key stats. Juan landed 30% more blows per round (13 versus Kirkland's 10) and absorbed 15% fewer shots (13 versus James' 15). Also, Juanito was a much more accurate fighter, as he delivered 29% of strikes. While only 19% of Kirkland's punches hit the target. Indeed, Montiel landed 33% more power shots per 3 minutes (12 versus Warrior's 9).
Kirkland vs Montiel preview
The boxers' techniques are completely different. Kirkland is an aggressive close range pressure fighter employing peek-a-boo style. Montiel, on the other hand, is a conventional boxer. He throws jabs much more frequently and lands big shots at medium distance.
James is very dangerous at close range. Therefore, Juan will have to keep Mandingo Warrior at the end of his punches. Otherwise, Kirkland will catch him against the ropes and beat him up. Juanito is slow for a middleweight and his footwork is far from ideal. Thus, the Mexican will fail to keep distance and lose.
Kirkland has an immense punching power and an outstanding 88% finish rate. The last time he won by decision was in 2003. Considering these factors and Montiel's lack of toughness, James is poised to knock the Mexican out. Kirkland's average winning round is third; therefore, the bout will unlikely last over 5 heats.
The most probable fight results
James Kirkland to win by KO (1/1);
Total rounds under 5.5 (9/10).
Disclaimer: Fight analysis is not a betting tip or a gambling advice of any sort. Our experts determine the most likely outcome of a sporting event based on statistics and personal views. Therefore, the actual result of a competition may differ from the predicted.