Jamel Herring vs Carl Frampton WBO title fight booked for February 27
Herring to fight Frampton
WBO super featherweight champion Jamel Herring will defend his title against Carl Frampton on February 27 in London.
Frampton aims at defeating Herring and setting a record
Herring was set to face Frampton on June 13 last year, but the contest was rescheduled for December 19 due to COVID-19 pandemic. However, The Belfast fighters court case interrupted Frampton's training camp and the bout was postponed once again. On January 12, MTK Global Boxing officially announced that Carl would challenge Jamel on February 27.
Carl was happy to get an exact date for the contest. He showed respect for the current champion but claimed that he would beat him and become the first Irish boxer to win titles at 3 weight classes. Herring is confident in his victory as well. He was training hard for the clash sparring Terence Crawford and other top British boxers.
Frampton outperforms Herring on all key stats. The Jackal has more punching power and a better ability to take shots. Besides, Carl faced stronger opponents and has more experience, as Jamel boxed 33% fewer rounds. Frampton's finish rate stands at 57%, but the champion has been stopped only once. Therefore, Carl will likely beat Herring via decision.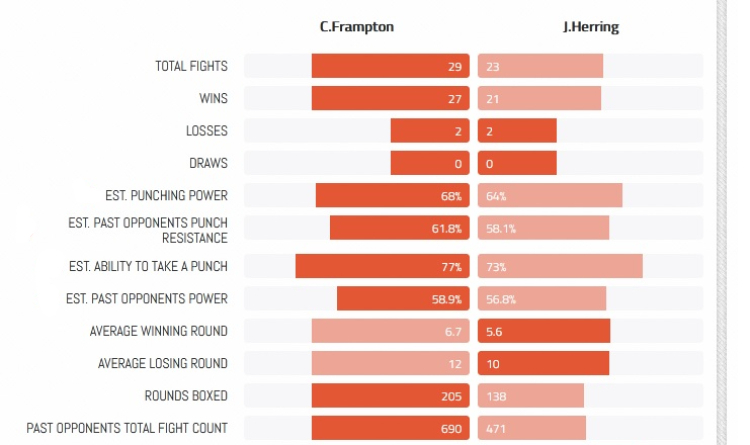 The winner of Herring vs Frampton is supposed to take on mandatory challenger Shakur Stevenson. Stevenson is an undefeated athlete with an impressive record of 15-0. He won the WBO featherweight belt in 2019 but vacated the gold last year to move up to super featherweight. He defeated Felix Caraballo and Toka Khan Clary in the 130-pound division and became the number 1 title contender.