Butler vs Macias: will BANG BANG win the NABF and NABA titles?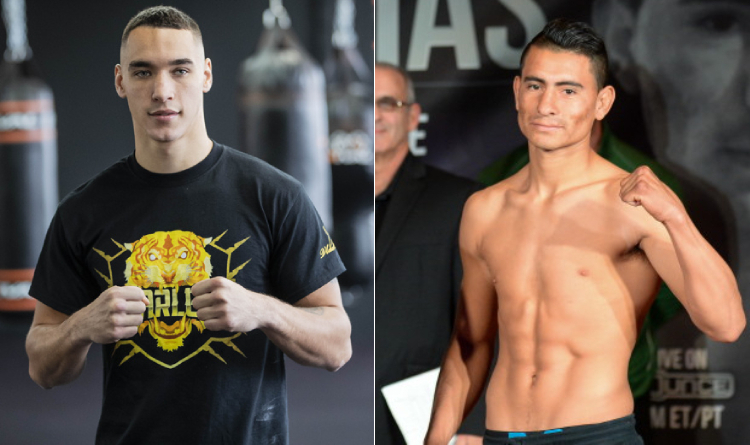 Butler to take on Macias
Steven Butler and Jose De Jesus Macias are set to battle it out for the WBC Francophone, NABF and NABA titles at middleweight on January 29. Who will score victory and win the belts?
Steven Butler stats
Butler started his professional boxing career in 2014 and compiled a record of 28-2-1. BANG BANG had been riding on a whopping 18-fight winning streak before facing Brandon Cook for the NABA and IBF North American titles in 2017. However, he lost by TKO and failed to earn the gold. Next year, Steven beat Jaime Herrera in a bout for the IBO International belt and added the WBC Francophone title by defeating Jordan Balmir. Butler beat Vitalii Kopylenko in a contest for the WBC International gold, but lost to Ryota Murata in a previous showdown for the WBA belt in 2019. BoxRec ranks Steven 15th at middleweight.
Jose de Jesus Macias stats
Macias began competing as a pro in 2011. His current record stands at 27-10-3. During his boxing career, El Changuito has never been a challenger for a belt. Therefore, an upcoming clash against Butler will be his first title shot. In 2019, Jose won 3 fights in a row. Nevertheless, he cut off the winning streak last year after dropping a unanimous decision to Kerman Lejarraga. The Mexican has been competing at super welterweight, and he takes 160th place in this division. He decided to move down to middleweight to face Butler and get a chance to win gold.
Butler vs Macias stats
Steven is 44% more powerful, but Jose has a 4% better ability to take strikes.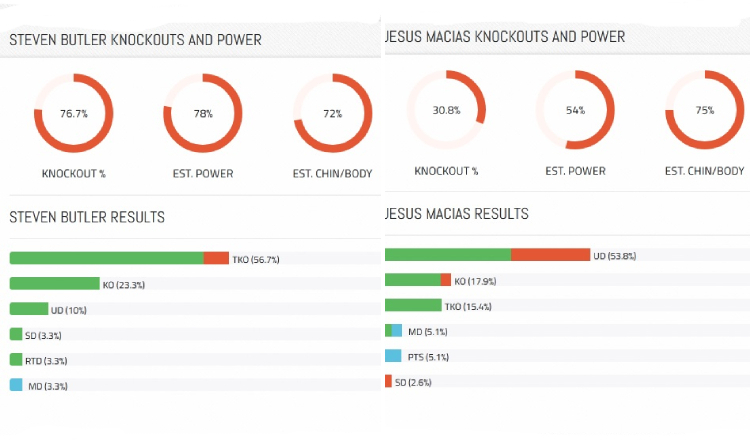 Based on the results of the athletes' previous contests, Butler outnumbered Macias' punches landed almost 2 to 1 (18 versus 8 per round). Moreover, BANG BANG scores 57% more power shots (11 versus Jose's 7 per round). Nevertheless, the Mexican absorbs 25% fewer blows (16 versus Butler's 21).
Butler vs Macias preview
The fighters' stats accurately reflect their strengths and weaknesses. BANG BANG lives up to his nickname: he is very active in the ring, throws many combinations and delivers a high number of shots. But Butler likes to brawl; consequently, he takes strikes very frequently. Macias, on the other hand, boxes much more cautiously. Thus, he absorbs fewer blows but clearly lacks offensive abilities. El Changuito tends to work at a long range and sticks to jabs.
Butler vs Macias is definitely a mismatch for several reasons. Firstly, Steven takes 15th place, while Jose is ranked 160th. Secondly, BANG BANG has an immense advantage in terms of attacking skills. Thirdly, there is a huge difference in levels of the boxers' oppositions. The Canadian beat such strong rivals, as Vitalii Kopylenko and Jesus Antonio Gutierrez Velazquez. While Macias has yet to defeat a big name.
Considering these factors, Steven is poised to win the fight. BANG BANG's finish rate is very high – 86%, but Jose suffered only 10% of losses before the time limit. However, Butler will likely win by KO/TKO, because he has an edge on key stats. The Canadian's average winning heat is fourth. Thus, he is expected to score victory within 8 rounds.
The most probable fight results
Steven Butler to win (9/100);
Total rounds under 8.5 (37/50).
Disclaimer: Fight analysis is not a betting tip or a gambling advice of any sort. Our experts determine the most likely outcome of a sporting event based on statistics and personal views. Therefore, the actual result of a competition may differ from the predicted.