Berchelt vs Valdez: will Oscar take the WBC belt away from Miguel?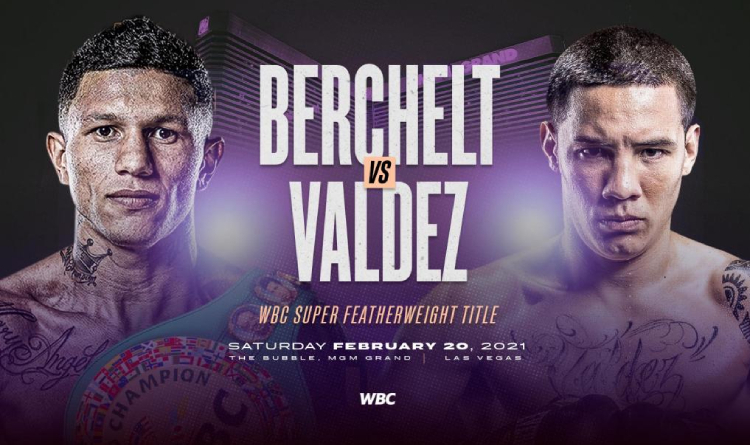 Berchelt to take on Valdez
Miguel Berchelt is set to defend the WBC super featherweight title against Oscar Valdez on February 20 in Las Vegas. Will the challenger take the belt away from the champion?
Miguel Berchelt stats
Berchelt began his professional boxing career in 2010 and amassed an exceptional record of 37-1, 1 no contest. The Scorpion won his first gold in 2012. He beat Berman Sanchez in a clash for the WBC Youth Intercontinental title and retained it in a bout against Oliver Flores. Miguel defeated Takashi Miura and became a WBC champion in 2017. He has already retained the belt 7 times. However, the result of his previous title defence was overturned due to legal issues. Berchelt is currently riding on a whopping 16-fight winning streak. BoxRec ranks him first at super featherweight.
Oscar Valdez stats
Valdez has been competing in boxing as a pro since 2012. He is an undefeated fighter with a record of 28-0. Oscar won the NABF Junior belts at featherweight and super featherweight in 2014. 2 years later, he earned the WBO belt in the 126-pound division and retained it in 6 fights. Valdez defeated Jayson Velez in 2020 and became the number 1 WBC title contender. As an amateur, Oscar finished third in the AIBA World Boxing Championship in 2009. He takes second place in the list of the best active super featherweights compiled by BoxRec.
Berchelt vs Valdez stats
Miguel is 9% more powerful, but Oscar has a 3% better ability to take shots.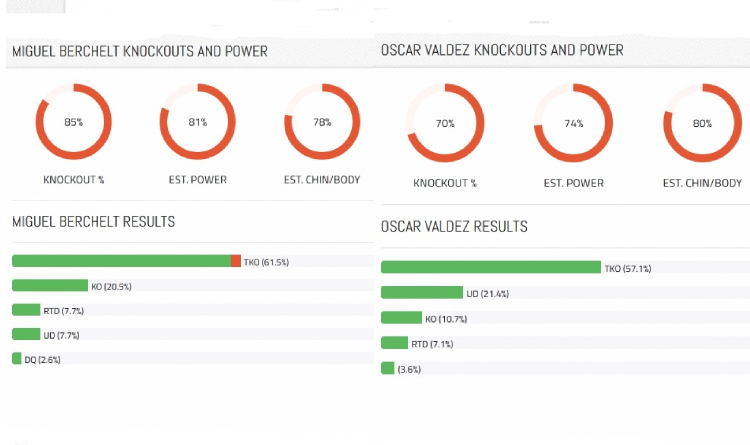 According to the results of the boxers' previous contests, Berchelt lands 179% more strikes per found (39 versus Oscar's 14) and absorbs 14% fewer punches (6 versus 7 per heat).
Berchelt vs Valdez preview
Miguel is an outstanding inside boxer. Every time he closes the rage, Berchelt throws bombs, working his opponents' body and head. Oscar is a stick and move outside fighter, who eschews brawls and sets things up with a jab. However, The Scorpion's technique turns out to be much more effective. He outnumbers Valdez's power blows almost 3 to 1 (34 versus 10 per round) and delivers 49% of shots. While only 29% of Oscar's punches hit the target.
Valdez moves pretty well and has good footwork. But he will unlikely be able to keep the distance throughout the clash. In case Miguel closes the range, Oscar will take a hard beating and fail to withstand his rival's attacks. Given Miguel's great advantage on all offensive stats, he has high odds to win the contest.
Berchelt's knockout rate is very high for the super featherweight division – 85%. Therefore, he is expected to beat Valdez by KO/TKO. However, Oscar is very tough, and he has a solid defence. Considering this factor, the fight is supposed to last at least 9 rounds.
The most probable fight results
Miguel Berchelt to win by KO/TKO/DQ (57/100);
Total rounds over 8.5 (18/25).
Disclaimer: Fight analysis is not a betting tip or a gambling advice of any sort. Our experts determine the most likely outcome of a sporting event based on statistics and personal views. Therefore, the actual result of a competition may differ from the predicted.