Alvarado vs Gutierrez: will Gemelo defend the WBA title?
Alvarado to take on Gutierrez
Rene Alvarado is going to defend the WBA super featherweight title against Roger Gutierrez in the co-main event of Garcia vs Campbell fight night on January 2 in Dallas. Will Gemelo defend the belt?
Rene Alvarado stats
Alvarado began competing as a pro in 2008 and compiled a record of 32-8. In 2010, Gemelo earned the Nicaraguan title but lost it to Orlando Rizo. Rene won the WBC Silver and WBC International belts in 2014. However, he failed to build on the success. Alvarado lost 4 of 8 bouts in 2015-2017 and dropped out of the championship race. In spite of failures, the Nicaraguan successfully revived his career. He defeated 7 opponents in a row and got a title shot against Andrew Cancio last year. Rene beat Cancio by RTD and won the WBA gold. BoxRec ranks him seventh at super featherweight.
Roger Gutierrez stats
Gutierrez turned pro in 2013 and amassed a record of 24-3-1. At the beginning of his career, The Kid was riding on a whopping 15-fight winning streak. Nevertheless, his champion ambitions were ruined in 2017 after he had suffered the first career loss in a clash against Rene Alvarado. In 2018, the Venezuelan cut off a 2-bout losing streak by beating Eduardo Aguero via TKO. Gutierrez gained victories in 5 consecutive showdowns (4 of them by KO/TKO) and got a long-awaited title shot against Alvarado. Roger takes 33rd place on the list of the best super featherweights compiled by BoxRec.
Alvarado vs Gutierrez stats
Roger has 4% more punching power, but Rene has a massive lead in terms of an ability to take shots. The champion's striking resistance is 25% higher.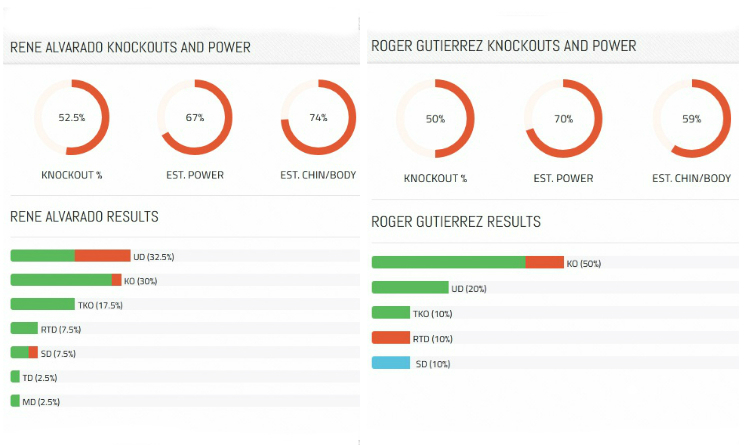 Based on the results of the fighters' previous contests, Alvarado outperformed Gutierrez on attacking stats. Gemelo landed 136% more blows per round (33 versus Roger's 14) with an accuracy of 33%. The Kid delivered only 23% of punches and landed 64% fewer power strikes per round (10 versus Alvarado's 28). But Rene absorbed almost 4 times as many shots – 22 versus 6 per round.
Alvarado vs Gutierrez preview
In their first clash, Rene dominated in every single round and forced the referee to stop the action in the seventh heat. Alvarado outnumbered Gutierrez's shots 2.3 to 1 and landed 159% more significant punches.
Gemelo's main forte lies in speed, footwork and head movement. Roger tends to block most shots instead of dodging them; he is more rigid and flat-footed. Due to these flaws, Gutierrez delivers fewer strikes and absorbs more blows.
Considering Alvarado's advantage in offensive skills, he is poised to win the contest. Gemelo's knockout rate stands at 65.6%, and Roger suffered 66% of losses by stoppage. Besides, 75% of the Nicaraguan's last bouts ended before the time limit. Given these factors, Rene has a great chance to beat his opponent by KO. Alvarado's average winning round is fifth; thus, the showdown will likely be over before the seventh heat.
The most probable fight results
Rene Alvarado to win by KO (2/5);
Total rounds under 6.5 (4/5).
Disclaimer: Fight analysis is not a betting tip or a gambling advice of any sort. Our experts determine the most likely outcome of a sporting event based on statistics and personal views. Therefore, the actual result of a competition may differ from the predicted.