Aldo vs Vera: will UFC veteran get back on winning track?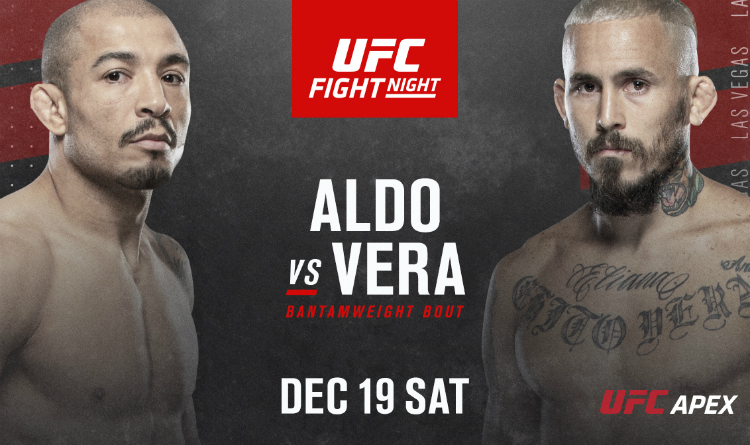 Aldo to fight Vera at UFC Vegas 17
A bantamweight bout between Jose Aldo and Marlon Vera will be held in the UFC Vegas 17 co-main event on December 19 in Las Vegas. Will the legendary veteran get back on the winning track?
Jose Aldo stats
Aldo began his MMA career in 2004 and amassed a record of 28-7. In 2009, Junior won the WEC featherweight championship and defended the belt twice. After the UFC and WEC merger, Jose was awarded the UFC title. He dominated in the featherweight division for 5 years and defeated 7 contenders. Aldo was dethroned by Conor McGregor in 2015 but got the belt back next year in a contest against Frankie Edgar. In the next showdown, Jose was knocked out by Max Holloway and failed to retain the gold. The Brazilian debuted at bantamweight in December 2019. He took on Marlon Moraes and dropped a split decision. Despite the loss, Aldo got a title shot against Petr Yan, which resulted in Yan's victory by TKO. Jose is riding on a 3-fight losing streak but is still taking seventh place at bantamweight.
Marlon Vera stats
Vera started competing in mixed martial arts in 2012. His record stands at 16-6-1. Chito transitioned to the UFC in 2014. He has never become a title challenger but earned 3 bonuses for the best performance and a "Fight of the Night" award. In 2018-2019, the Ecuadorian won 5 clashes in a row and was looking forward to cementing his position in top-10. However, his plans were ruined after a controversial loss to Song Yadong in May 2020. Nevertheless, Vera redeemed himself and knocked out young prospect Sean O'Malley in the previous showdown in August this year. He is ranked 15th at bantamweight.
Matchup stats
Vera lands 7% more significant strikes per minute, but Aldo takes 21% fewer shots.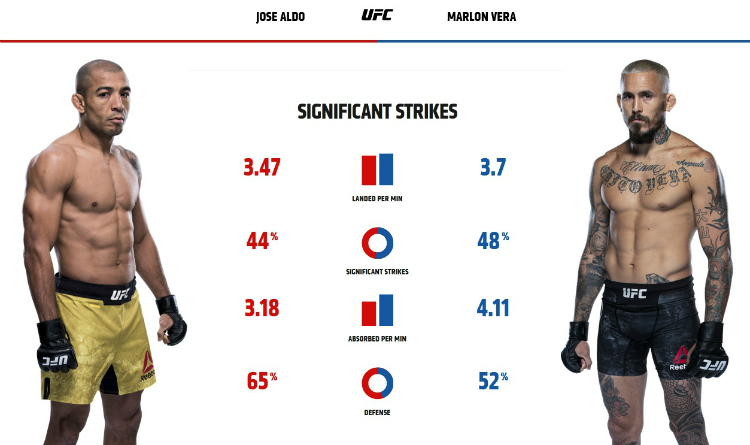 Marlon outnumbers Jose's submission attempts 8.5 to 1. Besides, Jose performs 27% fewer takedowns.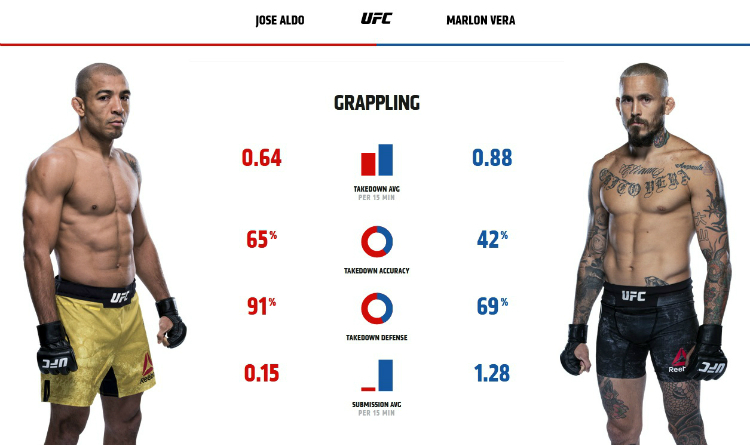 Aldo vs Vera preview
Jose trained in capoeira, but his fighting style is based solely on Muay Thai. Junior is famous for devastating low-kicks, hard knees and fast hands. Marlon did not coach in striking martial arts. Nevertheless, Chito employs a wide range of shots, including kicks, knees, elbows and punches.
Aldo earned black belts in BJJ and Luta livre. Marlon got a black belt only in BJJ. Nevertheless, the Ecuadorian has a great edge in grappling, because Junior opts for fighting on the feet. Due to wrestling background, Jose has an extraordinary defence – he denies 91% of takedowns. Vera finishes just 42% of attempts. Therefore, he has a little chance to bring the bout to the canvas and take full advantage of his grappling skills.
Marlon's main weakness lies in poor striking defence. He rarely dodge punches and prefers blocking them. Considering Aldo's striking power, Vera's tendency to take shots could lead to his defeat. Chito might focus on ground game in case he loses on the feet, but Junior is extremely hard to be taken down. Thus, Aldo will likely be victorious.
Jose's finish rate is 64%, though Chito has lost only by decision. The Ecuadorian has a strong chin and a high expertise in grappling. Therefore, Aldo is supposed to win by decision. Junior is not as durable as before; however, he has enough stamina for 3 rounds. Under the circumstances, the contest is expected to reach the time limit.
The most probable fight results
Jose Aldo to win (67/100);
Total rounds over 2.5 (51/100).
Disclaimer: Fight analysis is not a betting tip or a gambling advice of any sort. Our experts determine the most likely outcome of a sporting event based on statistics and personal views. Therefore, the actual result of a competition may differ from the predicted.