Akhmedov vs Danyo: who wins the WBA Continental title?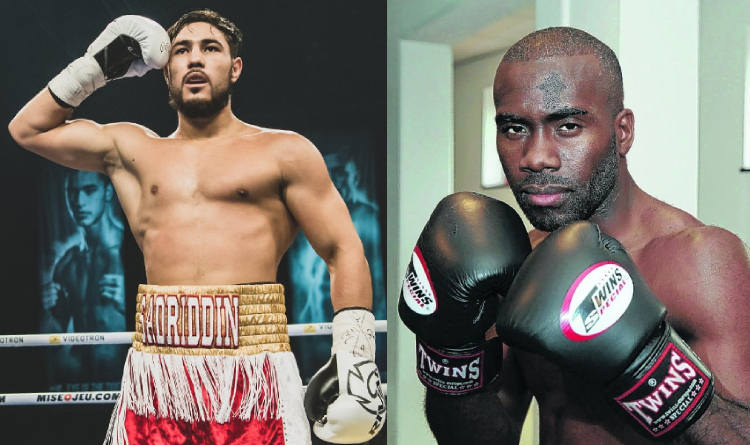 Akhmedov to take on Danyo
Sadriddin Akhmedov is set to face Stephen Danyo in a bout for the vacant WBA Continental, WBC Francophone and NABF titles at super welterweight on January 29. Who has better odds to win the contest?
Sadriddin Akhmedov stats
Akhmedov turned pro in 2018 and amassed an impressive record of 11-0. Soldier of Qazaq beat Abraham Juarez in a fight for the WBC Youth title in January 2019. In March, he defeated John Ruba and earned the WBC Asian belt. Sadriddin won 6 clashes in 2018 and 5 – in 2019; however, he did not fight in 2020 due to the coronavirus epidemic. The Kazakhstani boxer won the Youth World Boxing Championships as an amateur in 2016.
Stephen Danyo stats
Danyo began his professional boxing career in 2012. His current record stands at 17-3-3. In 2018, The Chosen One faced Custio Clayton for the IBF Inter-Continental and WBO International belts but lost via decision. Nevertheless, he got a second title shot against Felix Cash and failed to win the WBC International gold. In April 2019, Danyo lost to Orlando Fiordigiglio in a showdown for the IBF International belt. He won his first title, the WBA Continental, by beating Navid Mansouri in November 2019.
Akhmedov vs Danyo stats
Sadriddin has 19% more power, but the boxers' ability to take shots is almost the same.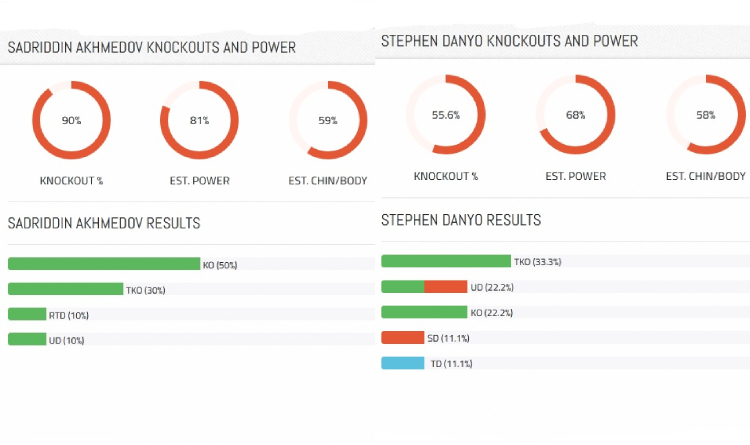 According to the athletes' previous contests, Sadriddin lands 50% more shots (15 versus 10 per round). However, Danyo takes 38% fewer punches per heat (5 versus Akhmedov's 8).
Akhmedov vs Danyo preview
The sportsmen's techniques are quite different. Stephen is an outside puncher – he sets things up with jabs and focuses on keeping the rivals at the end of his blows. Akhmedov, on the other hand, is an inside boxer. He fights at far distance less effectively, preferring to brawl at a close range; thus, Sadriddin tries to control the ring and work the body. Danyo uses a more dynamic approach and has a better footwork. But Soldier of Qazaq packs more power, and he is much more accurate. Sadriddin delivers 32% of strikes, while only 21% of The Chosen One's shots hit the target.
Given Akhmedov's advantage in strength and the number of punches landed, he has a great chance to win the clash. Soldier of Qazaq has an extremely high finish rate – 90%. Stephen has never been knocked out before, but he is 9 years older and has a relatively low chin and body toughness. Given these factors, Sadriddin will likely beat Danyo by KO/TKO. Akhmedov's average winning round is fourth. He stopped 3 last opponents before the eighth heat; thus, the contest is expected to be over within 8 rounds.
The most probable fight results
Sadriddin Akhmedov to win (1/20);
Total rounds under 8.5 (17/20).
Disclaimer: Fight analysis is not a betting tip or a gambling advice of any sort. Our experts determine the most likely outcome of a sporting event based on statistics and personal views. Therefore, the actual result of a competition may differ from the predicted.