Mathias Boe will be training Indian shuttlers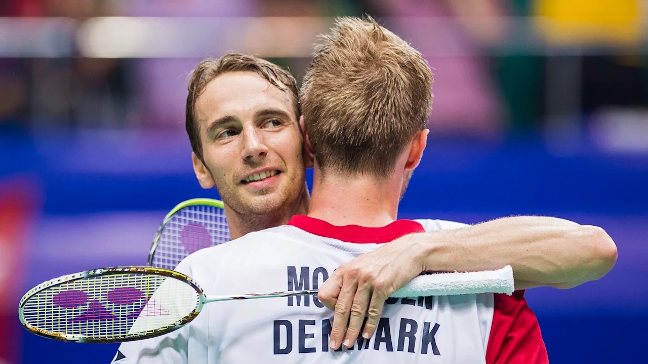 Mathias Boe
The Dane Mathias Boe, a former Olympic medalist, is planning on working with Indian Doubles badminton players Satwiksairaj Rankireddy, Chirag Shetty, preparing them for the Tokyo Olympics.
The decision to hire Boe's services was made revently by the SAI (Sports Authority of India) just as part of the TOPS (Olympic Podium Target Scheme).
Boe has eventually achieved to be called the silver medalist at the London Olympics, that took place in 2012. He was brought in at the request of Satwiksairaj and Chirag.
Mathias Boe, as it should be recalled, a former Olympic medalist of Denmark. He is going to work with the pairs including Indian players Satwiksairaj Rankireddy and Chirag Shetty preparing them for such an important event as the Tokyo Olympics, which are due to start in July.
Such a decision to participate in the Danish doubles star was approved by the SAI as part of the TOPS.
Mathias Boe had and still has a great force and speed that any player should ever envy (only in a good sense) with in Doubles. He has won to have a name of the former world No. 1. He has taken the Olympic silver medal in 2012 on London. Then he decided not to stop and went on to win much more, for instance: the World Championships, All England Championships and the Thomas Cup.
It must be noteworthy that exactly Chirag Shetty was that person who suggested that Boe should be involved in the preparation of the Doubles teams in such important for any sportsmen competition as the Tokyo Games.
This is far from being said that the champion or simply the Danish shuttler, have played with Indian stars for the first time. It should also be mentioned that he as well took part in working with pairs during the Premier Badminton League. And now he is going to work with such well-known to any sports fan shuttlers as Satwiksairaj, Chirag, Ashwini Ponnappa and Sikki Reddy.
Here you may get acquainted with some of the quotes:
"I played with him, and he is my mentor, who guided me before. Working with him will certainly help us in the Olympic year."
"Getting started with Boe will give us a huge psychological boost,"

Chirag said.
And we can surely mention how delighted he was expressing his opinion about working with Boe.
Satwiksairaj has reached the semifinals of the men's doubles and mixed doubles at the Toyota Thailand Open in the beginning of January.
He also mentioned his opinion about Boe's help, saying that it would only be a great pleasure.
Satwiksairaj, who, by the way, have recovered from COVID-19 in August of the previous year, is also excited about the appointment.
"We were confident when we played our second tournament in Bangkok. We are healthy and there is fire in us, but we need to do much better mentally. Boe's help will make us win difficult matches,"

Satwiksairaj said.
The pair has a good chance of qualifying for the Olympic Games. Nevertheless, help is help, but the pairing should work really hard to improve their ranking. Maybe they can even ensure the top eight.
The Indians returned to competing in badminton in January after a gap year. They had a breakout season in 2019. Back there they won the Thailand Open Super 500 and finished second at the French Open 750.
Mathias Boe is also concerned about appointments with other great Indian sportsmen: Ashwini Ponnappa and Sikki Reddy. But yet they are not in focus of this article.