All England Open Badminton Championships Quarterfinals Roundup: Jolly/Gopichand reached the semis while Marin withdrew
Jolly and Gopichand reached the semifinals of the All England Open
Day 4 of the prestigious badminton tournament saw various big players making an exit including Kodai Naraoka, Anthony Sinisuka Ginting and Carolina Marin etc.
On the other hand, it was a memorable day for Indian badminton fans as the Women's doubles pair of Treesa Jolly and Gayatri Gopichand stormed into the semifinals of the tournament. They are the only ones left for the country now with all the other big names eliminated so far.
Here's a look at the Quarterfinal matches:
Men's Singles
Lee Zii Jia vs Kodai Naraoka
Kodai Naraoka lost his quarterfinal battle against Lee Zii Jia 9-21, 21-10, and 13-21 to end his campaign in the tournament. Now, Zii Jia will play his semi-final game against the Chinese shuttler Shi Yuqi.
Anthony Sinisuka Ginting vs Anders Antonsen
Anders Antonsen defeated Ginting in a three-game battle to reach the semifinals of the tournament. He won 21-14, 9-21, and 21-17. Now, he will be up against Chinese baddie Li Shifeng.
Antonsen's journey in the tournament has been exceptional so far after defeating players Rasmus Gemke and Lakshya Sen. Now, he looks settled to create history this time in England.
Weng Hongyang vs Shi Yuqi
The Chinese derby went in favour of Shi Yuqi as he defeated his countrymate Weng Hongyang easily by 21-9, 21-14 to enter the semifinals. Now, he will be up against Lee Zii Jia in the important encounter.
NG Tze Yong vs Li Shifeng
Li Shifeng won a one-sided battle against NG Tze Yong in the quarterfinals. He beat the Malaysian by 21-11, 21-11 to enter the semifinals of the tournament. His next opponent would be Anthony Antonsen in the semifinals.
Women's Singles
Carolina Marin vs AN Se Yong
One of the top-notch baddies in the world, Carolina Marin pulled herself out of the competition to give AN Se Yong an easy way to make it to the semis. Marin was going pretty well this time but due to illness, she had to take this decision. AN Se Yong will next play her match against Tai Tzu-ying in the semifinal.
Akane Yamaguchi vs Wang Zhiyi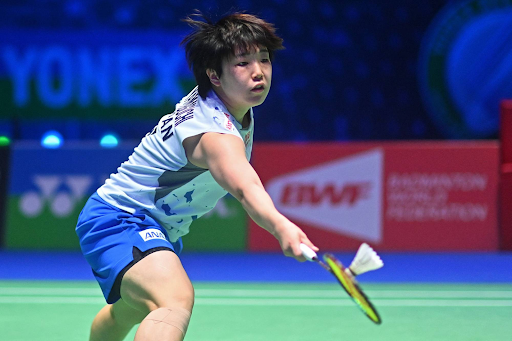 Top-class shuttler Yamaguchi has entered the semifinals after defeating Wang Zhiyi in straight games 21-19, 21-12. Her next battle will be against Chen Yufei.
Gregoria Mariska Tunjung vs Chen Yufei
One of the best knockout games in this tournament so far was played between Tunjung and Yufei where the Chinese had the last laugh with 24-22, 23-21. Tunjung was excellent throughout but it was not her day in the end. The Chinese shuttler will be up against Akane Yamaguchi in the semifinals which is going to be a superb battle.
He Bingjiao vs Tai Tzu-ying
Easy victory for Tzu-Ying as she defeated He Bingjiao in the quarterfinals 21-12, 21-11 to enter the next round. Her semifinal battle will be against AN Se Yong.
Women's Doubles
Treesa Jolly/Gayatri Gopichand vs Liu Shengshu and Li Wenmei
Memorable victory for the Indian pair as Jolly and Gopichand showed their A game against the Chinese duo to enter the big stage of the All England Championships. They are now two steps away from the glorious All England Open victory. The duo defeated 21-14, 18-21, and 21-12 to reach the semifinals.
Now, their next knockout game is against the South Korean pair of Baek Ha-na/Lee So-hee. A victory from here can change their fortunes going forward.
Other Important Results
Yugo Kobayashi/Takuro Hoki vs Zhou Haodong/He Jiting
The iconic pair of Hoki and Kobayashi suffered a setback against the Chinese pair of Haodong and Jiting as they lost the battle by 21-17, 18-21 and 15-21. The Chinese duo will now face Alfian and Ardianto in the semis.
Baek Ha-na/Lee So-hee vs S. Ramadhanti/A. Rahayu
The South Korean pair had a phenomenal game against the Indonesian pair of Rahayu and Ramadhanti as they beat them 21-11, 14-21 and 21-14 to make it to the semis. Now, they will face India's Treesa Jolly and Gayatri Gopichand in the semifinals.